Event Date: Saturday 19th December 2020 - Saturday 19th December 2020
15/12/2020: CANCELLED
Unfortunately, with the Government decision announced on 14/12/2020 to place London & parts of the counties bordering it into Tier 3, this has meant that it has affected a significant number of our entries to the effect that it has made the running of the event unviable.
We have also been working closely with our Local Authority who have concerns that Peterborough may be placed into Tier 3 before the weekend. Should that be the case then we would not have been able to use the Embankment area for boating.
We appreciate this cancellation is at short notice, but trust that you will understand the decision and support us when we try to organize further events in the New Year.
There will of course be a full refund processed in due course.
---
Peterborough has emerged from the second lockdown in the Tier 2 category, which allows us to host on-water competitions. Knowing how desperate everyone is for a return to racing, we are acting quickly and holding a Private Match on Saturday 19th December 2020. This is running with the approval of NCC and with British Rowing's Competition Insurance.
There are two divisions available,
Division 1 @10:00 (2,600m)
Division 2 @13:00 (2,600m)
With the following events on offer,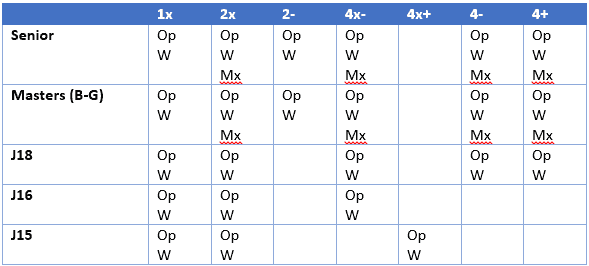 Invitations have been circulated to surrounding Tier 1/2 locations. In order to minimise social contact, doubling up is not permitted. Competitors should adopt a "Show, Row, Go" approach to this race. We are charging £10/seat (excluding coxes) to help cover costs. All entries and payments should be made through BROE. Whilst this is a Private Match, all entries must be able to demonstrate a high level of competency. The closing date for entries is 17:00 Wednesday 16th December and the start order will be circulated the following day.
Everyone attending must submit their contact details using our Test and Trace tracking form: https://forms.gle/cU69CuwEy8izSya48.
Documents available to download
Postcodes for car parks
Results
Results will be posted here following each division. They will also be available online at www.raceleader.co.uk/hch20.